Mexico has been a long time favourite destination for North American travellers, and it is becoming more and more prominent with European tourists looking to enjoy Mexico' s tropical climate, picturesque landscape, and beautiful sandy beaches — not to mention is vibrant and very fascinating cultural heritage. Many of Mexico's ancient sites are so important that most of them has been named UNESCO World Heritage Sites, making sure that all of them will be preserved for generations to come. Most of these sites are as popular to travellers just as the popular tourist destinations in Mexico like Cancun, Playa del Carmen and Puerto Vallarta. Making the experience even better is Mexico's rich culture, an interesting mix of native people as well as colonial influences from Spain that is showcased in everything, from Mexico's vibrant music and culinary creations. Mexico is also known for its Flora and Fauna, as it is stretched across climate zones that surrounds everything from lush tropical rain forests to barren deserts.
Cancún and The Mayan Riviera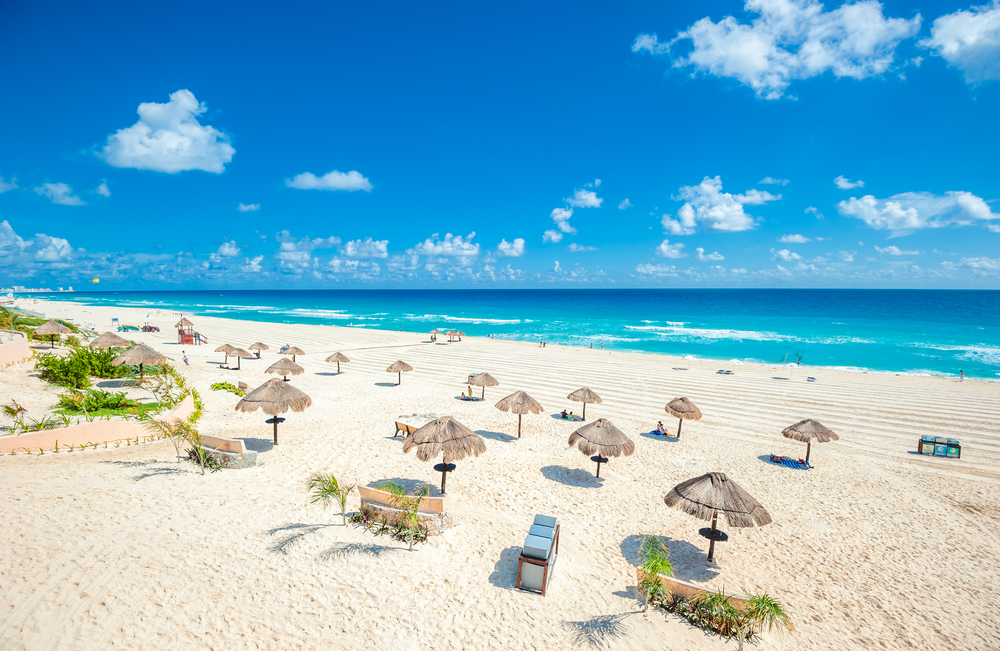 Situated on an exquisite stretch of coastline on the Gulf of Mexico are the famous tourist destination of Cancún, the island of Cozumel and Playa del Carmen, known as the Mayan Riviera collectively. This fantastic location at the tip of the Yucatán Peninsula draws over 5 million of visitors to Mexico each year while generating more than 20% of Mexico's total revenues. Despite these staggering numbers, you will hardly feel crowded in the Mayan Riviera due to its extensive stretches of sand and crystalline waters. The area also features a lot of fun activities such as snorkelling among tropical fishes and reefs, diving in the largest underwater museum in the world with its breathtaking collection of sculptures submerge to depths of 8 meters and also stingray and dolphin swims. There are also regions with ancient Mayan ruins, with some of the sites within walking distance from the beaches, and the larger ones like Chichén Itzá and Tulum - are just a few hours away.

Cabo San Lucas and the Los Cabos Corridor

At the southerly edge of the magnificent Baja Peninsula, Los Cabos — which is also known as Cabo — is one of the top beach destinations in Mexico. Featuring a massive stretch os coastline that stretches from the small towns of Cabo San Lucas and San José del Cabo and are known as the Los Cabos Corridor (Corredor Turistico), the 30-kilometer stretch of immaculate beaches draws tourists from all over the world for diving fishing and snorkelling in its clear waters (It is also home to the world's largest marlin contest). Some resorts have been erected in the area to accommodate all different budget types, from golf entered properties to deluxe spas. In addition to relaxing at the beach and wandering throughout Cabo San Lucas, one of the most popular activities is snorkelling and swimming around the famous natural landmark El Arco de Cabo San Lucas, a massive archway carved out of the coastline where the Pacific meets the Sea of Cortez.

Puerto Vallarta

Another one of Mexico's destinations that are getting increasingly popular is this City on Mexico's Pacific Coast, Puerto Vallarta. Often called Vallarta for short, this city — most parts of which have no modern development — initially appeared on the vacation map in the 1960's as a getaway for North America's social aristocrats and had since become very popular among tourists seeking a home away from home in a more pleasant climate. In recent times, the city is more likely to attract a cruise ship with an older audience looking to swim alongside dolphins as younger travellers are usually looking for the adventure that can be found in Puerto Vallarta, activities are as diverse as jet-skiing and paragliding. For travellers who prefer vacationing at a more relaxed pace, the city is also home to many shops for arts and crafts, and to easily wander along beautiful beachside promenades with their abundance of sculptures and green spaces.
Mexico City's Historic Center

Mexico is not just the Capital of Mexico and the house of the government, it is also one of Mexico's most popular alternative travel destinations, thanks to the abundance of world-class museums, art galleries, and other attractions. Don't be frightened by the size. Focus instead on the iconic city centre known as the Centro de la Cuidad, a 15-square-kilometer UNESCO World Heritage Site featuring over 1,400 famous colonial buildings from the 16th to the 19th centuries. It's here; you will find the majority of Mexico City's major attractions, most if which are within walking distance of Constitution Square (Plaza de la Constitución), the city's busy central plaza, including the nNational Palace, the Templo Mayor and the Metropolitan Cathedral with its Aztec artefacts. Making the experience even better is volcanic mountains in the background overlooking Mexico City Iztaccíhuatl and Popocatépetl, both over 5,000 meters tall and offering the ideal excuse to getaway and explore the picturesque scenery in this part of Mexico's Highlands.
Copper Canyon: Mexico's Grand Canyon

One of Mexico's most northern states, Chihuahua — that shares the border with New Mexico in the US — is the home of Mexico's most visited natural attractions, the outstanding Barranca del Cobre (The Copper Canyon). The Copper Canyon is situated in a region that is known as the Sierra Madre Occidental that consists of a breathtaking group of canyons, of which Copper Canyon is the largest and even deeper than its popular cousin, The Grand Canyon. The name is derived from the copper green caring of the canyon's set walls, these beautiful crevices were carved out by six rivers that gather in the Rio Fuerte before draining into the Gulf of California. Thanks to the increased popularity in the area as a travel destination, there are countless options available for those looking to explore this area of unique beauty, from picturesque rail trips aboard the Ferrocarril Chihuahua al Pacífico to more adventurous tours by horseback and bikes.

Guanajuato

Guanajuato is labelled as a UNESCO World Heritage Site thanks to its many old colonial architectures, serpentine lanes and narrow alleys; Guanajuato is a city that just begs to be explored on foot. One of the most satisfying experience is visiting its many plazas, including the pleasant Jardin de la Union, the city's main square with its lovely old buildings. Also, you will find the beautiful ancient San Diego Church and the iconic Juárez Theater, along with flower beds and fountain heads, restaurants and cafes. After you are done exploring, head underground to Guanajuato's subterranean streets, a part of a network of underground tunnels that use to carry a river but are now mostly used by pedestrians looking to get around quickly and cars. Known for its art, Guanajuato boasts many beautiful galleries as well as fascinating museums, none more so than the Museum of Quixote, which was a tribute to the works of the Spanish writer Miguel de Cervantes. And if you can bare it check out the city's iconic Mummies of Guanajuato display with its many naturally mummified remains of Mexicans who passed away during an outbreak of cholera in the mid-19th century
Chichén Itzá: The Mayan Metropolis

The Mayan Metropolis is a popular excursion for people visiting Playa del Carmen and Cancún or Yucatán capital of Mérida, the spectacular Mayan City of Chichén Itzá is one of the most visited archaeological sites in Mexico, as well as one of the best restored and largest. Highlights of a visit to this UNESCO World Heritage Site is countless, from the gigantic El Castillo — which is also known as the Pyramid of Kukulkán, sitting at 30 meters high, the tallest structure at the site — to the stunning Caracol, which is an almost 1000-year-old observatory which demonstrates just how advanced the Mayans were. Also, the site has may interesting statues, including a lot of examples of the famous Mayan Chacmools holding their sacrificial vessel as the proceed to guard these ancient temples.
Tulum

Tulum is located on the east coast of the Yucatán Peninsula in Mexico. It was once upon a time a major port that served the Mayan City of Coba. Tulum was built around 1200 AD when the Mayan civilisation was already in a slump and therefore lacks the beauty of some of the most popular sites. The tropical beach background, however, makes Tulum a beautiful and popular attraction which shouldn't be missed. Tulum is also the home of the famous Ancient Fortress of Tulum.
Acapulco

Acapulco is the authentic tourist town in Mexico which came to prominence during the 1950s as a tropical getaway for Hollywood Celebrities and the wealthy. Still, Acapulco remains a very popular tourist destination for North Americans and Mexicans and as spring break destination for University and college students. No trip to Acapulco is complete without watching the cliff divers perform their amazing dives into the ocean. This has been a practice in Acapulco since the 1930s, today, most of the divers are trained, professionals.
Ixtapa and Zihuatanejo

Though Mexico's larger tourist areas get most of the attention, there is a lot to be said about paying a visit to Mexico's smaller tourist destinations. Two of the best are Ixtapa and its close neighbour Zihuatanejo on the Pacific coast of Mexico. Though the larger of the two, the once upon a time coconut and mangrove producing town of Ixtapa has carefully mastered the art as a tourist getaway to an impressive effect, its streets and beaches are uncrowded and easy to get around. The difference to traditional beach resorts is even bigger in the lovely Zihuatanejo, which has worked its way into being one of Mexico's best small towns. Situated along a small, well-kept bay, it's a pleasant and safe town to explore, home to numerous restaurants and elegant hotels. Activities include fishing or shopping in its fish market.