IBEROSTAR Paraíso Beach
Mexico
The IBEROSTAR Paraíso Beach is a 5-star all-inclusive family hotel with a distinctive Mexican colonial style. This impressive hotel is located in Playa Paraíso, the center of Mexico's Mayan Riviera. The hotel's decor includes furnishings that are true works of art and the lobby is adorned with marvelous wooden carvings. The hotel's complimentary shuttle makes it easy for guests to travel throughout the resort, it runs on a regular basis.
Luxurious Facilities. The IBEROSTAR Paraíso Beach Hotel boasts one of the largest pools in the entire Mayan Riviera, over 3,280 feet in length! The pool area is furnished with Balinese beds and palm-thatched gazebos for relaxation. The IBEROSTAR Paraíso Beach is undoubtedly a 5-star luxury hotel.
Culinary Delights. The gastronomic delicacies offered at the IBEROSTAR Paraíso Beach Hotel are an experience for all five senses. Our culinary expertise and variety of dining choices set us apart from ordinary all-inclusive hotels, from top buffets to à la carte restaurants serving appetizing Mexican fare and international cuisines.
Caribbean Sports. Outdoor sports aficionados who enjoy being one with nature will be impressed by the IBEROSTAR Paraíso Beach Hotel's multitude of sports and leisure offerings including an amazing first class golf course and scuba center, among other great activities.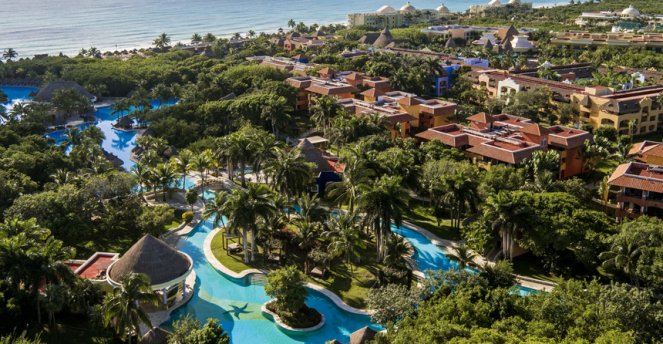 AMENITIES
Sports
Entertainment
Sports
Services