Getting married is very exciting, let alone getting married at a Caribbean beach location under the golden sunset with no shoes and the feeling of warm ocean water and wet sand between your toes. That is what a destination wedding is all about, and this experience is becoming increasingly popular among many couples looking to Tie the knot. If you are one of those couples exploring the possibility of having your wedding day at a Caribbean location, then this list may be very exciting for you. Let's check out the most popular destination wedding locations in the Caribbean.
1. Antigua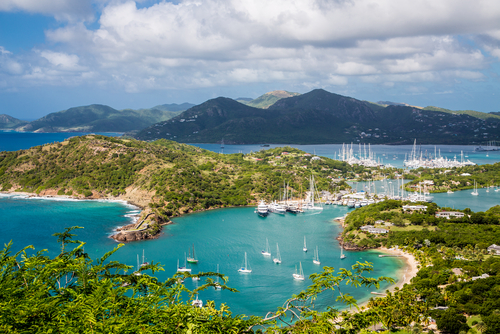 Antigua is not just one of the most beautiful Caribbean islands; it is one of the most beautiful islands in the world. If you are looking for an upscale tropical wedding experience, then Antigua is home to some of the most luxurious high-end resorts in the Caribbean. There are 365 beaches in Antigua, one for each day of the year. The only tough decision you will have to make about having your beach wedding in Antigua is which beach you want your ceremony to be held on. Expensive Yacht clubs, powdery white sand beaches, steamy rainforest and historic sites; Antigua has everything you could ever ask for out of your Caribbean Destination Wedding experience.
2. Aruba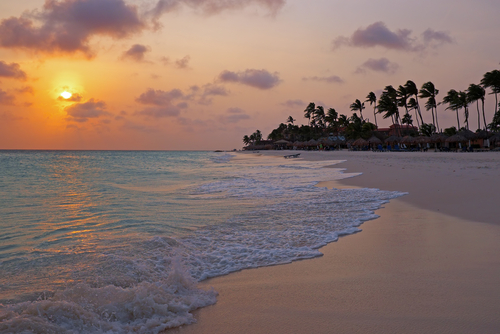 Aruba boasts picture perfect powdery white sand beaches, and more guaranteed sunny days than any other Caribbean island, making it one of the top Caribbean locations to host a destination wedding. This friendly and very safe island allows you to freely explore its many natural wonders including one of the world's top rated beaches, The Eagle beach. Take your pick of extremely high-end luxury hotels o budget all-inclusives; Aruba has a destination wedding experience for any style or budget.
3. Jamaica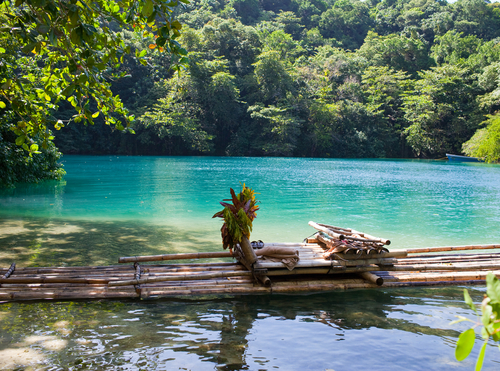 Jamaica is biggest and most culturally dynamic of all the English-speaking Caribbean islands. With it's larger than life cultural experience, world famous golden sunsets, and miles of stunning white sand beaches, Jamaica is a top location in the world for a Destination Wedding. From luxury to budget all-inclusive resorts, beautiful hillside catered villas, boutique hotels by the cliff, the options for a destination wedding in Jamaica are limitless. Get married on the beach of by the cliffs, then explore the islands many beautiful attractions such as waterfalls, incredibly tall mountains, natural springs and rivers. You already know about the music, you have heard about the food, and you have most definitely heard that Jamaica is one of the most ideal places in the Caribbean to have your destination wedding.
4. Bahamas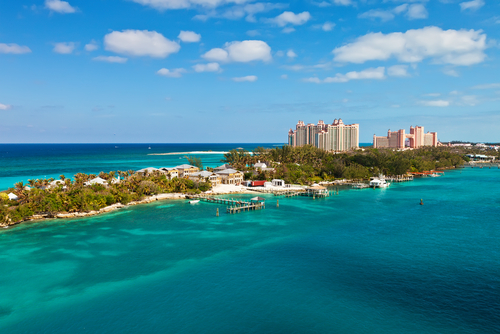 Take your pick of any of the 700 islands that make up The Bahamas, including one very special island known as Paradise Island. Your tropical wedding dream can become a reality when you by getting married in The Bahamas. Enjoy pristine white sand beaches on the Grand Bahamian Island, shipwreck or shark diving, golfing or some fun after before wedding night gambling at one of the many casinos. There are many resort options for all budget ranges in the Bahamas so start planning your destination wedding in Paradise.
5. St. Lucia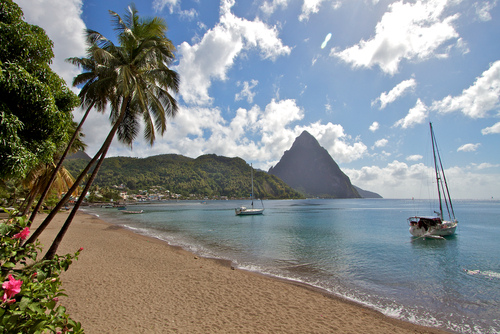 St. Lucia is another high-end luxury Caribbean destination and is home to some of the most extravagant resorts in the Caribbean, and hosting weddings is one of their favorite things to do. You can choose to have a beautiful wedding or take your wedding experience to the beautiful resort in the mountains. Take a day cruise and get the real beauty of St. Lucia with your partner or wedding party, you can even choose to say your vows right there on a private Yacht on the water. For a picturesque postcard type destination wedding experience, try getting married in St. Lucia.
6. Dominican Republic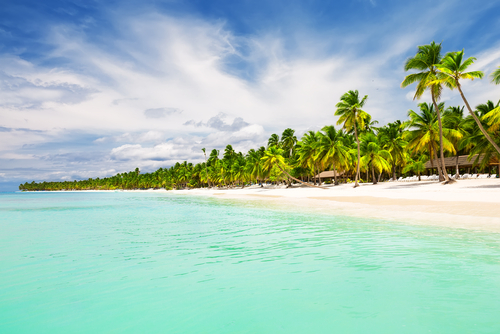 The Dominican Republic is a popular wedding destination for those looking to enjoy a beautiful tropical wedding experience on a budget. This island may not be as expensive as some of the other islands mentioned above, but that does not take anything away from its beautiful beaches and a wide selection of high-end all-inclusives and boutique resorts. Head over to Punta Cana where you will find a 20 mile stretch of beach lined with lovely palm trees. With flights from most major North American cities to the three main regions in the Dominican Republic, this is an affordable and convenient location to host your destination wedding.
7. Puerto Rico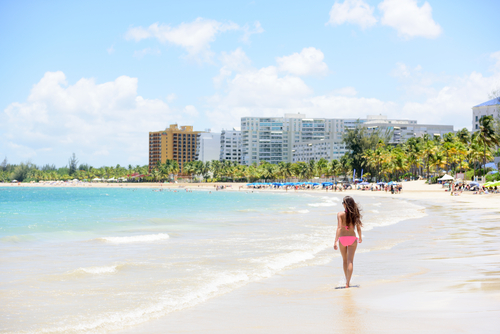 When you think of Puerto Rico, you think of beautiful people and sizzling Latin culture. If you are looking for a Caribbean experience that provides something a little different than the typical Caribbean islands, then try Puerto Rico. If you are traveling from the USA, you do not need a passport to get to Puerto Rico, where you will find lovely beaches and resorts to the North of the island or vibrant nightlife in San Juan. If you are looking to through a little bit of youthful fun into your destination wedding experience, then taking your vows to Puerto Rico.
8. Barbados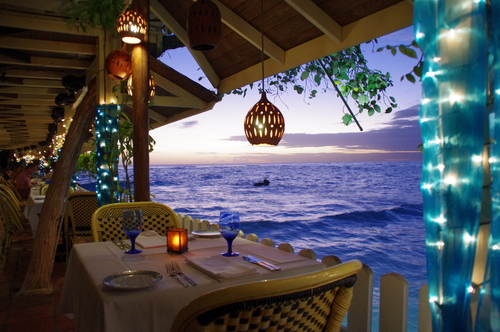 Barbados is one of the warmest and welcoming Caribbean destinations, with many beach resorts perfect for combined wedding and honeymoon experience. The West Coast of Barbados is lined with Coral Shore white sand beaches. You will also find a lot of beautiful art, amazing nightlife and history when you visit Barbados. This island is one of our favorites for an incredible tropical wedding experience.
9. Cayman Islands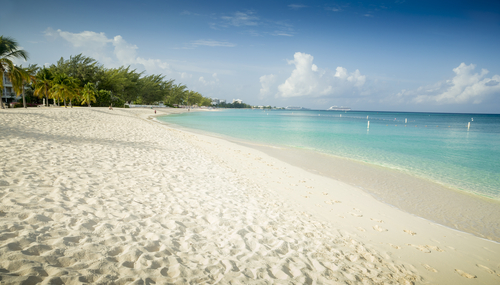 The Cayman Islands boast one of the highest standards of livings amongst all Caribbean islands, so expect to enjoy incredible dining, boutique shopping, and other first class experiences mixed into your wedding vacation. Enjoying a picture-perfect beach wedding on 7-mile beach in Grand Cayman with turquoise blue water as your backdrop. Or take your nuptials to the more quaint and secluded Little Cayman for a quiet romantic wedding at a small guesthouse. The Cayman Islands are popularly known for its diving and snorkeling experience so do not forget to add that to your wedding vacation itinerary.
10. Grenada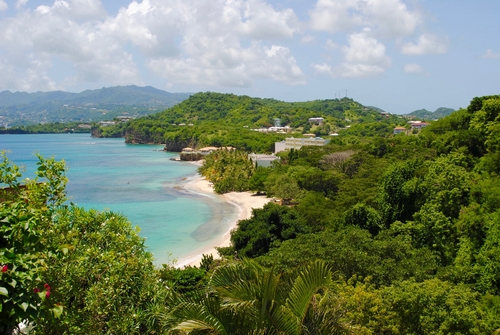 Take your pick of beautiful white of black sand beaches for your Destination Wedding experience in Grenada. The Spice Isle is not only known for its beautiful natural herbs and spices but is also popular amongst couples looking for a romantic tropical vacation experience. In Grenada, you will find several beautiful beaches and landscapes that are untouched and unspoiled by man, a holiday in Grenada is a real escape from the regular world. The perfect Caribbean destination for you and your partner to pledge eternal love to each other.